News Letters
Here's our latest newsletter as a PDF and we will archive older newsletters here too. You can also sign up to receive our monthly newsletter by email.
We appreciate any feedback please contact us.
Latest news from PinkUk - our newsletter for October 2020
---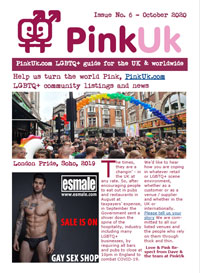 The times, they are a changin' - in the UK at any rate. So, after encouraging people to eat out in pubs and restaurants in August at taxpayers' expense, in September the Government sent a shiver down the spine of the hospitality, industry including many LGBTQ+ businesses.
PinkUk-News-october-2020.pdf
30 September 2020
Latest news from PinkUk - our newsletter for September 2020
---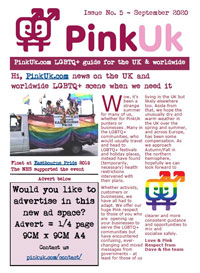 Wow, it's been a strange summer for many of us, whether for PinkUk punters or businesses. Many in the LGBTQ+ communities, who would usually travel and head to LGBTQ+ festivals and holiday places, instead have found (temporarily, necessary) health restrictions have intervened.
PinkUk-News-September-2020.pdf
28 August 2020
News from PinkUk - our PinkUk new newsletter for August 2020
---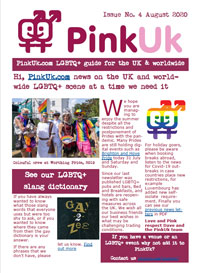 We hope you are managing to enjoy the summer despite all the restrictions and postponement of Prides with the pandemic. Many Prides are still holding digital events such as Brighton and Hove Pride today 31 July and Saturday and Sunday
PinkUk-News-August-2020.pdf
31 July 2020
News from PinkUk - our PinkUk new newsletter for June 2020
---

Under UK Government health guidelines, pubs, hotels, B&Bs and other holiday accommodation will be allowed to open from Saturday 4th July. As travelling abroad may be restricted in some countries and not allowed for the rest of the summer.
PinkUk-News-June-2020.pdf
30 June 2020
Getting PinkUk news to you – our PinkUk new newsletter for May 2020
---

We would bet that self catering holidays for residents only of each country will likely be the first sector to be popular, especially LGBTQ+ friendly options, because people will be keen to holiday in a safe environment after the easing of confinement rules.
PinkUk-News-May-2020.pdf
31 May 2020
News from PinkUk - Prides, Beat the lockdown boredom and more
---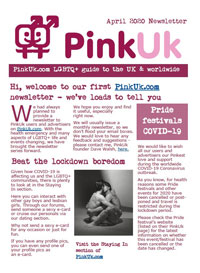 We had always planned to provide a newsletter to PinkUk users and advertisers on PinkUk.com. With the health emergency and many aspects of LGBTQ+ life and events changing, we have brought the newsletter series forward.
PinkUk-News-April-2020.pdf
27 April 2020