LGBTQ+ Pride Handmade Jewelry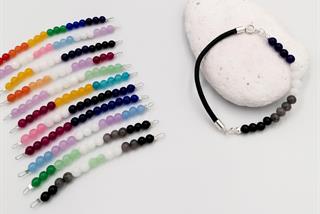 Location:
Patras, Peloponesse, GR, Greece
Cost:
LGBTQ+ Pride Bracelet : from 34,00 euro Now 27,20 euro
Handmade LGBT Pride Bracelet with semi-precious stones in the colours of Pride Flag, Lesbian, Bisexual, Transexual, Agender, Pansexual, Asexual, Genderfluid, Genderqueer etc
Unique handmade LGBTQ+ jewelry handcrafted
with imagination! We create gorgeous jewelry and embrace uniqueness!
Visit our website and get special gifts and surprise your be loved one!
USE Coupon Code: PINKUK2023 and get 20% OFF
LGBTQ+ Pride Handmade Jewelry
LGBTQ+ Ukraine
Don't be complacent about rights affecting Lesbian, Gay, Bisexual, Transgender and Questioning (or Queer) (LGBTQ) people. Rights vary greatly by country or legal jurisdiction – encompassing everything from the legal recognition of same-sex marriage to the death penalty for homosexuality.. According to Wikipedia as of July 2020, the penal codes of nine United Nations-recognised countries, Afghanistan, Brunei, Iran, Iraq, Mauritania, Nigeria, Saudi Arabia, Somalia, and Yemen, impose the death penalty for homosexuality.
We have a total of
3,330
venues in
76
countries.
---

In support of our dear Ukrainian friends. Ukraine has a strong LGBTQ+ community and networks. However given the political situation (March 2022) we have removed our Ukrainian venues for the time being for their security and the wider LGBTQ+ communities in the country.
To the LGBTQ+ communities of Ukraine, we wish you all well in these difficult times and hope that your country returns to being a peaceful place soon.
Share this page
:

|
Tweet