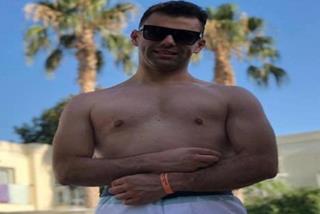 Fit Muscular Syrian Masseur
Location:
Willesden Junction, UK
Date:
Early morning till late night
Cost:
£70 for 1 hour /incalls and outcalls
Tired from a long day at work , it's the time to relax under my strong hands.
I am a friendly handsome muscular fit Syrian , down to earth masseur who offers you the best service around London and help you to relief the work stress. My goal is to provide you with the best sport massage (deep tissues-Swedish and sport massage ) to help target aches, tension and well-being distressed from everyday.
I do incalls , outcalls .
£70 for 1 hour
Appointments only available upon booking
Feel free to contact me on :
WhatsApp , normal calls, messages
07426496885
Links to Other Gay Related Sites
Gay Bournemouth
The complete guide to gay life in Bournemouth. Details of bars including The Branksome & XChange, clubs including Bent and also hotels, shops and services. Massive online photo gallery (over 1000 photos), busy user forum and interactive fun
---
Gay Manchester
canal-st.co.uk Is Portal site for the famous gay village Canal Street, Manchester
---
---
LGBTQ+ dating
Gay Dating & Networking - Circa-Club for Gay Professional Men
Connect with 10,000's of Gay professional men in the UK and Worldwide for business, friendship, dating or networking
---
Gay EU
Gay EU, latest and most entertaining gay community in Europe! You'll be able to get in touch with other gays, both online and offline, catch up with the latest news, discuss current events.
---
Gay Gordon
GayGordon provides secure, hassle-free gay dating where people can meet to form new online relationships. Whether you're looking for fun, a hot date, a wild romance, or the love of your life, you're sure to find someone special. Meeting gay single men is quick, easy, safe and completely anonymous.
---
Gay Singles Online
Gay Singles, Gay Men, Gay Women, Gay Personals, Bi Men, Bi Women, Gay Dating locally and worldwide.
---
---
Other LGBTQ+ websites
---
---
Gay Times
Gay Times Magazine, the UK's leading gay life and style magazine, from the latest news, reviews and fashion to a comprehensive national scene and travel guide.
---
---
Peter Tatchell
A list of articles and essays on LGBTQ+ rights, LGBTQ+ activism, queer politics, HIV and AIDS issues, human rights campaigns, the human rights abuses of Robert Mugabe in Zimbabwe, Outrage demonstrations etc.
---
QueerAttitude.com LGBTQ+ Youth Forums
Queer Attitude is a friendly, unique LGBTQ+ youth community. We have forums, blogs, galleries and chat, but we're not a dating site. It's a fully moderated safe space where you can get advice and support, or simply chill-out.
---