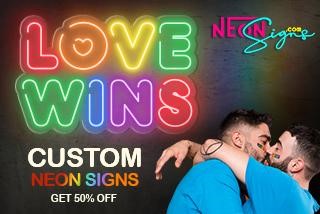 Neonsigns.com LGBTQ+ Custom Neon Signs - Show Your Pride
neonsigns.com is an international professional neon light manufacturer with over 15 years of experience.
Wide range of neon light products, with UL certification, 3-year warranty, low energy consumption, high brightness, handmade, fast and free shipping, easy to install, with remote control and mobile app dual control modes, supports plug-in and battery two modes of power supply. Show your support for the LGBTQ+ community with our stunning neon signs.

Click the link below for 50% off.
Neonsigns.com LGBTQ+ Custom Neon Signs - Show Your Pride
LGBTQ+ slang dictionary
Country Rights | Hanky Codes | LGBTQ+ Flags | Slang dictionary | UK Gay & Lesbian History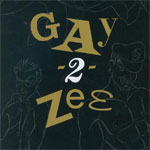 If you have always wanted to know what those LGBTQ+ slang words, dating abbreviations, acronyms & slang terms mean that every uses but were too shy to ask, or if you wanted to know where they came from then the LGBTQ+ dictionary is your answer.
If you know of any LGBTQ+ slang words or LGBTQ+ terms we don't have listed, please let us know, thanks.
We have a total of 561 words listed.
F
Female
F2F
Face to Face
Facial
To come over the face
Fag Bangle
A gay man who is a just a fashion accessory to a straight women i.e. like the gay men in 'Sex in the City' they are an extension of the straight woman's ward robe
Fag Hag
A (usually straight) woman who socialises extensively with gay men. Fag-hags and hag-fags have special bonds, like fancying same blokes
Fag-Stag
Straight male, who is married or has a girlfriend AND Gay best friends. Straight male who frequents gay bars/clubs to hang out with Gay friends. Some say "it's not cheating" on their spouses/girlfriends. It's "a night out with the bquot;
Faggot
Derived - Way back when churchmen were burning suspected witches (possible lesbians also) at the stake. they stacked the fires with small bundles of branches tied together called "faggots" ... occasionally anyone suspected of homosexuality was (Unfortunately) tossed on, to entertain the crowds hence the term
Faggot (also Fag)
A male homosexual Like dyke, this term was originally used as an epithet, but has been adopted by many of the people to whom it refers There is no general agreement about the origin of the term
Fairy
A male homosexual, especially one who acts or dresses in an effeminate manner This was a common derogatory term for homosexuals during much of the twentieth century Like dyke and faggot, gay people have reclaimed it
Fairy Lady
Term used in the mid-1900's for a lesbian bottom
Family
Meaning being part of the lesbian and gay community As in, "He's a member of the family, He's gay"
FAQ
Frequently Asked Questions
Feigele
A Yiddish term for gay that is derived from the word bird is another possible root for the term "fag." This is especially possible in the United States. The terms "faggot" and "fag" referring to a "bundle of sticks" were rarely used in historical American English. Furthermore, American English has incorporated many Yiddish terms (and pronunciations) into its lexicon. "Feigele" is pronounced "veyg-uh-luh," and as in most Germanic pronunciations, the "v" sound is commonly softened to an "f." In the northeast US, "fag" is pronounced more like, "feyg."
Felching
Felching is the sexual act involving the act of orally sucking semen out of the vagina or anus of one's partner.
Fem Fatale
A queeny queen
Femme
A lesbian or gay man who acts and dresses effeminately
Fems
Feminine (referring to effeminate gays, or those who act girly)
Fetish
A bodily part (or object) that gives sexual arousal; ie Foot Fetish.
FF (Fist fucking)
The act of stuffing a fist in someone's anus
FF (Foot fucking)
The act of stuffing a foot in someone's anus
FFK
FKK is an abbreviation that is found in several european languages, it originaly comes from German and is short for "Frei-Körper-kultur" (free body culture). it can be found on signs at beaches and lakes, tellng the visitor that he is going to enter an area where it is common to nude sunbathing/swimming.
Firth Wheel
A heterosexual in a homosexual group.
Fist
To insert part or all of one's hand into the anus or vagina of a sex partner
Flaming
Very outwardly gay male who displays stereotypical gay behaviors Likes it in the poop shooter: Has a particular affinity for anal sex
Fluffer
Someone who would help another to arousal for a third party (Porn Film, photographer, sex party etc)
Fluffy
Term used by lesbians Meaning a woman is turned on In gay male leather circles, this meant term is meant for someone who isn't into the dress code Derives from the description of someone who wears bulky or "fluffy" sweaters A putdown from a leather man might be: "You look awfully fluffy tonight"
Also can be used as a Derogatory term for a Bear as in "He thinks he's so butch but he's really just a Fluffy"
Fraysexual
Opposite to Demisexual, dissipates away once an emotional bond has occurred (ace spectrum).
Freeballing
As 'Going Commando' Men are going out and are not wear underpants under their trousers. 'I saw him in the gym and he was obviously freeballing.'
French Embassy
Any location, especially a gym or Y, where gay sex is readily available
Friend of Dorothy's
Referred to as being gay This term has roots from Judy Garland, whose musical ability and tragic life story were so popular with gay audiences and of course from, "The Wizard of Oz", the classic musical
Friends with Benefits
Friends who you have sex with (the benefit is sex).
Frig
Sex between two women, often involving one rubbing the genitals of the other with her fingers; probably derived from friction
Front Marriage
A marriage between a lesbian and gay man in order to "pass" at work and/or with family
Frot
Slag for Frotting.
Frotting
Rubbing two penises together for sexual pleasure. Usually, both men stand or lie down facing each other so that the undersides of both penises touch along their entire length, allowing one person to masturbate both penises simultaneously. The warmth of the other penis and the added stimulation from contact along the entire length of the shaft can create increased sensation compared to ordinary mutual masturbation.
Fruit Flies
Another term for Fag Hags Heterosexual women who socialise extensively with gay men
Fruity
A gay male with feminine characteristics and/or behaviors
FTM
Female to Male Transsexual (lesbians who have had transgender procedures to become male)
Furburger
Derrogatory term for pussy used by straight people to describe lesbians. (e.g. She eats furburgers.)
FWB
Friends with Benefits – Be friends that have sex but with no relationship commitments
Share this page
:

|
Tweet