Gay slang dictionary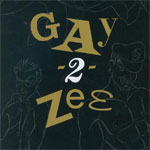 If you have always wanted to know what those gay slang words, dating abbreviations, acronyms & slang terms mean that every uses but were too shy to ask, or if you wanted to know where they came from then the gay dictionary is your answer.
If you know of any gay slang words or gay terms we don't have listed, please let us know, thanks.
Zipper Club
An orgy room in a bar, bathhouse, or toilet.
Zoo Queen
A person who wants to be treated like an animal. Common behavior is wearing a collar and even eating out of an animal's dish.