LGBT Foundation Rainbow Charging Cable
August 2022
Universal 5-in-1 multi USB charging cable with built-in belt clip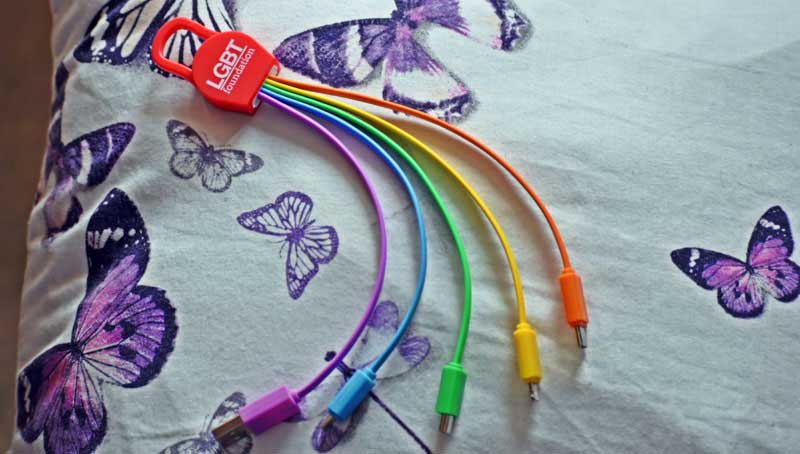 DP Building Systems are a cable specialist company, and in partnership and under license by LGBT Foundation which launched in November 2019 we have designed a next generation USB fast charging 5-in-1 cable with each sale a donation going to LGBT Foundation to fund their projects to support the LGBTQ community - it is a Pride-inspired rainbow USB fast charger.
Read our feature on the LGBT Foundation
DP Building Systems believe their 5-in-1 fast charging cable is a great and colourful charging cable all year round as well as to celebrate Pride
Charge multiple devices simultaneously with heat-efficient cable technology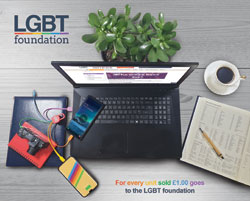 Simply connect the standard USB-A connector to any power bank, wall charger or mains USB adapter, desktop computer, laptop, car charger, external battery or computer USB port to begin charging one single device or multiple devices simultaneously! The flat design of the rainbow cables provides greater efficiency in dissipating heat because of their increased surface-to-volume ratio, meaning that you can charge four devices at the same time without worrying about overworked wires.
The rainbow cable will allow you to charging multiple devices simultaneously, mobiles, Apple devices, tablets, video games consoles, Bluetooth speakers, headphones, MP3 players, e-readers and more simultaneously whilst representing rainbow pride flag and principles, life, healing, sunlight, nature, harmony and spirit.
Small, portable, lightweight, and durable
This universal multi-USB cable is perfect for keeping at home or taking with you anywhere you go, work, school, travelling or out-and-about – great to keep around for when your devices are running low on battery. Simply pop it in your handbag, backpack, pocket or use the built-in belt clip to attach to your bag for easy access.
Type C fast-charging 23.5cm cable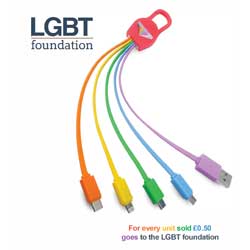 This cable uses Type C Fast Charging technology to provide more output enabling your device to charge at a faster rate by supplying more electricity. Perfect for when your device is running low on battery and you need a quick boost or a fast full charge.
Specifications
Warranty: 1 Year
Connector(s): Connector Type(s)
USB-A: (Purple)
Mini USB: (Blue)
Micro USB: (Green)
8 Pin connector: (Yellow)
USB-C: (Orange)
Cost price per unit would be £2.50 per unit, which will include the 50p donation to LGBT Foundation - this is a non-profit partnership for DP Building Systems, their only objective is to raise donations and help make a difference.
The 5-in-1 USB fast charger will fast 4 connected mobile phones, tablets, smart devices or USB devices simultaneously
Product Details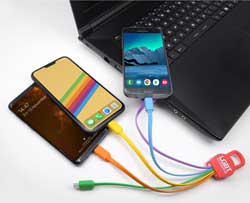 50p donated to LGBT Foundation to fund their projects supporting the LGBT community
New faster charge technology, charges faster than standard USB chargers
The 5-in-1 cable fast charges all devices simultaneously
Perfect for when your devices are running low on battery and you need a quick boost or a fast full charge
The rainbow coloured cable has been designed to show support to the LGBTQ community
100% biodegradable packaging which was requested by LGBT Foundation
Cable connections - Type A, Micro-USB, Type-C, Mini-USB & more
---
Share this page
:

|
Tweet