LGBT History Month
In the UK in February is LGBT History Month which plays a big part in providing information and educating LGBTQ+ identifying people about their heritage.
In the UK it is commemorated in February as a salute the abolition of the notorious 'Section 28' legislation, passed by British Prime Minister Margaret Thatcher's government in the 1980s, which threatened prosecution of public agencies who promoted positive identities for LGBTQ+ communities such as libraries and schools.
January 2022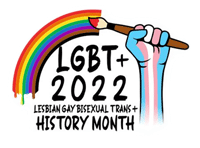 This year the theme is Politics In Art: 'The Arc Is Long' which ties with art in the school curriculum in England. Read more about uk LGBT History Month.
According to the UK organisers, Schools Out, the overall aim of LGBT+ History month is to promote equality and diversity for the benefit of the public.
This is done by:
Increasing the visibility of lesbian, gay, bisexual and transgender ("LGBT+") people, their history, lives and their experiences in the curriculum and culture of educational and other institutions, and the wider community;
Raising awareness and advancing education on matters affecting the LGBT+ community;
Working to make educational and other institutions safe spaces for all LGBT+ communities; and
Promoting the welfare of LGBT+ people, by ensuring that the education system recognises and enables LGBT+ people to achieve their full potential, so they contribute fully to society and lead fulfilled lives, thus benefiting society as a whole.
How you can help?
Schools Out UK is celebrating over 45 years of campaigning for LGBT+ inclusion. Your donations support our aims to provide LGBT+ resources, training and services to schools and educational institutions.
lgbtplushistorymonth.co.uk/about/
Usefull links
LGBT+ History Month