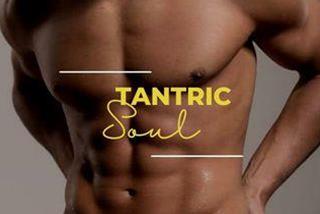 Tantric Soul gay massage in London
Location:
London, UK
Hello and a very warm welcome to Tantric Soul, Gay massage London, established 2005. We are London's most popular and skilled Body to body and Tantric massage agency.

We specialise in Swedish, deep tissue massage, with an erotic twist, providing Gym fit, handsome, skill masseurs with locations right across Central and West London.
Enjoy a relaxing body to body massage where you can be pampered and cared for, with a handsome, fit gentleman in complete discretion.
Tantric soul Gay massage London on PinkUk
Tantric Soul gay massage in London
Pride in Brighton and Hove - how it was then
September 2023 PinkUk Editor, Simon Williams
A historical perspective on Brighton's early LGBTQ+ Pride movement; the legal, cultural and social background in the UK 1970 - 1991.
Bravery, passion, liberation and amazing fun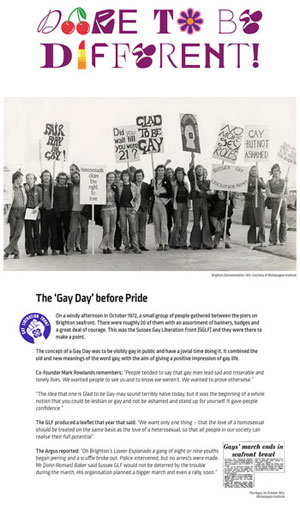 In the 50th anniversary year of Brighton & Hove's first Pride, PinkUk Editor Simon Williams delves into the past to understand the roots of the early Pride movement in Brighton and the UK and how LGBTQ+ activism, social change and politics nurtured the movement: 1970s and 80s to shape what it is today.
Today Brighton & Hove Pride is one of the most popular and successful LGBTQ+ festivals in the UK. It usually attracts around 500,000 people of all backgrounds to diverse events. They include a huge street parade with community groups, big companies and public services such as the police and ambulance workers marching or parading on large truck floats in solidarity; then there's the enclosure festival with star music acts, numerous dance tents, stalls serving irresistibly aromatic snacks and, of course, stomach-turning, height-freaking big dippers! In the 'gay village' around St James's Street there's an enclosed street party with cabaret and singer stage acts; crowds dance to live DJ beats. A range of cultural and community events including a film festival take place in the first week or so of August. Bars and clubs pulsate across the city for the weekend, usually the first one in the month.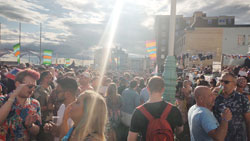 The festival boosts local hospitality businesses, vital for a city founded on having fun; it also raises money for LGBTQ+ charitable causes. Others, whether locals or visitors, just enjoy the vibe across the city, may be spectate at the Pride parade or just hangout on the beach if it's fine weather or hold private parties at home. Of course, and most important of all, a dog show is held later in the month.
So how did this momentum nurture Pride into what it is today over the years? What is it actually all about, anyway? How did it begin? It's about a lot of things wrapped together. An understanding of the history of Brighton helps to answer these questions.
The place, its history and reputation: piers, queers and racketeers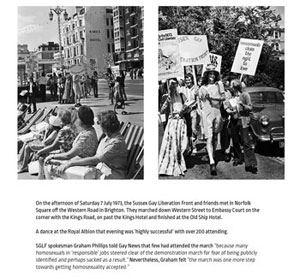 Brighton's recent history and the clichés surrounding its reputation, whether deserved or not, tell us a lot about its Pride heritage and how it came to be. For our international readers we should explain that the city is located on England's south coast about 50 miles from London – some, simplistically call it 'London-by-the-sea' it's not, it's something magically different. Since time immemorial, it's had a reputation for fun, free-living and acceptance, but with a streak of rebelliousness.
In the 1970s, British TV journalist and Brighton resident the late Keith Waterhouse famously quipped, "Brighton has the air of a town that is perpetually helping the police with their inquiries." Playwright Noël Coward, humorously commented, "Ah, dear Brighton, piers, queers and racketeers." And that was way back in the 1930s. Sadly, there's only one pier now, but possibly many more queers and racketeers.
Brighton's relatively close proximity to London and attractive location on the coast has over the years meant it's experienced a turbulent, energising mix of social change; diverse new-comers, whether visitors, tourists or residents felt they could be who they wanted to be with more ease. As the largest coastal resort near London this isn't surprising. The trend accelerated in the 70s and 80s. It became a kind of seaside haven for all sorts of people from around the UK and all over the world, including many in the LGBTQ+ communities.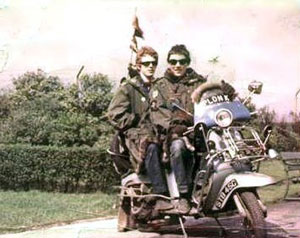 Of course, a liberal, welcoming culture has also encouraged the town's more raffish side such as the rowdy seafront clashes between 'Mods' and 'Rockers' in the 1960s. For those unaware: these were rival, mainly out of town, motorbike gangs. 'Mods' rode motor scooters and who were, apparently, fashion conscious – up to you to decide on that - 'Rockers' rode motorcycles whose uniform was, unsurprisingly, motorcycle gear. These clashes were famously portrayed in the 1979 film Quadrophenia. The town's reputation has also been amplified in fiction and film, notably in Graham Greene's famous murder thriller Brighton Rock, written in the late 1930s about London's warring gangs involved in murder, horse racing scams and other rackets in the town.
Going back further in time, until the late 1700s, Brighton was a sleepy fishing town. This changed when the extravagant and pleasure-seeking Prince Regent, later King George IV, started to visit the town from the late 1780s to bathe in sea water for his health, a recommended medication at the time. One wonders why His Royal Highness' courtiers couldn't have just grabbed some sea salt from the royal kitchens and poured it into HRH's palatial London bath.
A resort fit for queens as well as a prince: Brighton's urban environment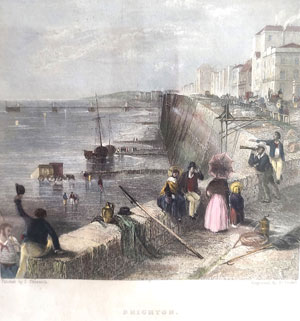 However, by 1820, the Prince's (or from that year the King's presence) had transformed the town into a fashionable resort with huge urban growth, leaving Brighton and Hove with a legacy of the most impressive example of Regency-era architecture in the country, the most notable being the opulent and beautifully decadent Royal Pavilion. A palace, it's been lovingly cared for today as for the last 200 years. With its iconic Indian-style exterior and huge saracenic domes contrasted inside with a rich Chinese and oriental-style décor; it's a must-visit for those who haven't done so yet.
If you happen to be in town for next year's Brighton & Hove Pride or are around on another date, drop by; there's a modest entry fee to get in. In 1850 Queen Victoria sold the palace to Brighton's local council as she apparently disliked it, grumbling that she could view only a "morsel" of the sea from its windows. Pinker queens might have more favourable opinions.
By then the railways had arrived, funnelling thousands of Londoners down for seaside fun and Victorian-era doughnuts for a low cost day trip ticket. Railways cut the travel time from London to Brighton from around six hours in the pre-train era to around two. After WWII, and as the twentieth century passed by, it attracted growing numbers of people from the LGBTQ+ communities.
By the 1980s, a local LGBTQ+ business network had emerged with independent bars, clubs and other enterprises catering for their communities. Generally, LGBTQ+ identifying people found the place to be a tolerant, convivial seaside town within easy reach of London, lively but not as fast paced as the capital, so they made it their home.
The city of Brighton & Hove today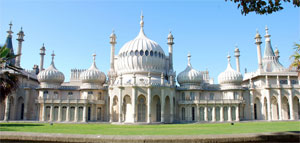 The modern city of Brighton & Hove (awarded city status as twin towns in 2001 by the Queen) is not without its challenges as with any city; it has expensive property prices, homelessness, including LGBTQ youth homelessness and vulgar economic inequality. It isn't free of homophobic or transphobic prejudice or crime, of course, sadly, that's everywhere. But it's still generally fun-loving, free-spirited and accepting.
It's sometimes dubbed the UK's LGBTQ+ or pink 'capital' (gay capital of the UK). Some might say, for its size, with a population of around 275,000 in 2023, it punches well above its weight on LGBTQ+ culture, community and the scene over some of the UK's larger cities who also have significant LGBTQ+ populations such as Manchester and London. Partly this may be for its general 'pinkness' and a 'critical mass' of LGBTQ+ demographics and, basically, the way the city can pull off amazingly fun, entertaining cultural events by the seaside such as Pride.
The city hosts other large events notably the Brighton Festival, a month-long arts fiesta in May each year, somewhat like the Edinburgh Festival in Scotland. There's been a growth in LGBTQ+ events for example Trans Pride is a recent addition to the city's calendar, usually listed a few days before the main festival.
By 1970, Brighton's history had, even if by chance, laid the foundations for what was to come next.
Global fight-back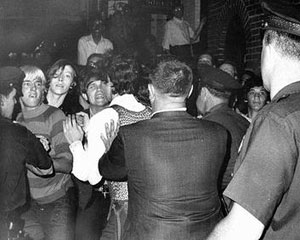 Taking a step back to look at the wider world in the early 70s: a lot was happening as the 60s passed into the 70s. There was a feeling among the LGBTQ+ activist community in the UK and in other English speaking countries that full equality was still distant, legally and socially. Activists in the UK in the early '70s had been inspired by what had happened in America. On 28 June 1969, the New York police raided a gay bar in Greenwich Village, a district of Manhattan, not an unusual occurrence in those times; gay bars were always at risk of raids. The Stonewall Inn was then one of the few gay-friendly venues in New York City and apparently the only one to permit dancing.
The police attempted to arrest LGBTQ+ customers as a reminder that the 'boys in blue' were in charge. But this time the customers stood their ground; violence ensued as police attempted to arrest customers, but the crowd pushed the police back. The conflict continued for almost three days, initially some police officers were besieged inside. The uprising struck a chord with LGBTQ+ activists around the world. It also rallied American LGBTQ+ communities to establish annual commemorations on 28 June; these became known as 'Prides'.
In 1970 LGBTQ communities marked the anniversary in large cities including New York, Chicago and Los Angeles. The events in America galvanised UK activists into action and branches of the Gay Liberation Front (GLF) sprung up in London, Brighton and other places in the UK. The Sussex branch of the GLF was founded in 1971 by students and other activists according to Janet Cameron in the book LGBT Brighton (2009).
Early years of the Pride movement: radicalisation, bravery and fun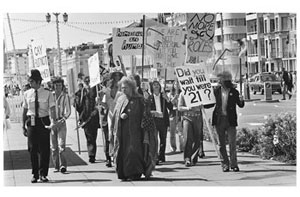 The dress rehearsal
October 1972: on a blustery afternoon on Brighton's seafront, about 20 activists boldly gathered with placards, demanding action on 'gay' rights, urgent reform of sexual orientation laws in the UK and social change to eradicate homophobia. The group called themselves the 'Sussex Gay Liberation Front' (SGLF) and their first demo would be known as 'Gay Day'.
Although homosexuality had been partially decriminalised in 1967 for men in the UK aged 21 years or over (still a discriminatory five years' age difference versus heterosexual relationships), the social climate was extremely hostile in many quarters of British society, both on LGBTQ+ visibility and for legal equality, even in a town like Brighton.
The gathering encountered some minor scuffles with a handful of aggressive youths and the police intervened, according to the local newspaper, The Argus. No arrests were made. Humble an event as this was, the gathering paved the way for Brighton's Pride future.
Half-baked decriminalisation: the situation in the UK by 1970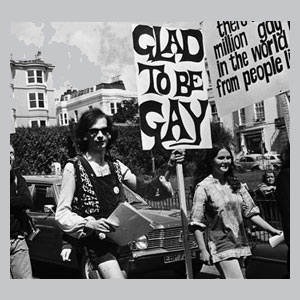 In the UK, there was still a lot to make a noise about even if homosexuality had been partially decriminalised. Many discriminatory laws were still in place and would remain so for decades. Besides the five-year difference in the age of consent between heterosexual and homosexual relationships, there was the ban on same-sex civil marriage and lack of protections for LGBTQ+ communities similar to those introduced in the Race Relations Act of 1976. This law banned discrimination on grounds of race in the provision of goods and services, employment, and other public or governmental activities.
Police enforcement of 'sexually-related' laws remained highly discriminatory. A particularly unpleasant experience some gay or bi men risked in the 1970s was entrapment by the police. This was the so-called 'pretty policeman' tactic. Usually it would involve a police officer, presumably attractive but not in uniform, who would entice a man into a public toilet or in a public park for some kind of liaison; if the man accepted the proposal, he'd likely be arrested for indecency in a public place or, if under 21, for having under-age homosexual sex.
The big day... or rather the big week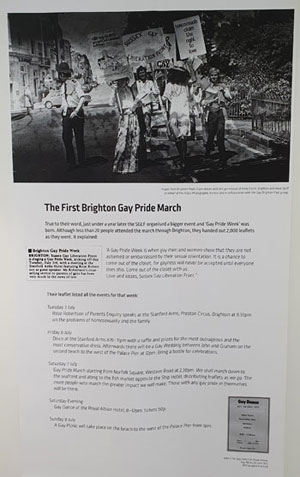 After the success of the October 72 rally, the SGLF moved quickly and the group planned its small, but fully-fledged, Pride for the following year for July. Incidentally, an excellent photo exhibition at Brighton's Jubilee Library Dare to Be Different, unveiled in July 2023 to coincide with Pride, featured some long lost photos of the 1973 parade and the programme brochure. In 2021, some negatives were found by researchers in the Argus newspaper's photo archive. This was a significant find as it had been a matter of longstanding debate whether a 1973 Pride had in fact taken place. The photos prove it beyond doubt!
On Saturday 7 July 1973 Brighton's first ever 'Gay Pride' march took place. It started in Norfolk Square, on the boundary with Hove and passed eastwards along the seafront promenade to the Ship Hotel with marchers distributing leaflets to local people as the march went along.
There are misconceptions that the early 1970s Prides in the UK were 'just demos', important and passionate as they were, the assumption had been there was little in the way of official social events or partying. Dare to Be Different suggests this was not true, at least in Brighton – and that's not really a surprise given it's the UK's city of fun. The publicity material reveals a formal social programme over a whole week with a disco, a health discussion with a key-note speaker, an evening dance at a large hotel attended by around 200 people on the Saturday and a picnic for those who preferred something more relaxed.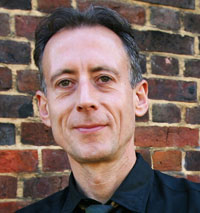 Meanwhile, on the more political side, the Gay Liberation Front was busy trying to change attitudes to LGBTQ+ equality across the UK. I talked to human rights campaigner Peter Tatchell who was involved in the campaigns in those years in London and was a key figure in the Gay Liberation Front. Peter marched in the 2023 Brighton & Hove Pride Parade; he's done a lot more marching over the years than the recommended 7000 healthy steps a day.
"The Gay Liberation Front in London (1970-74) was a watershed moment in LGBT+ history," Peter explained, "For the first time in the UK, thousands of LGBT+ people came out and protested in public for our rights,"
"We took on the entire homophobic establishment: the government, police, church, psychiatry, media, corporates and much more."
"The first Pride marches were the result of growing LGBT+ confidence and assertiveness. It was made possible by more LGBT people coming out; the [marches] were conceived as an antidote to the prevailing straight view (internalised by many LGBT+ people) that we should be ashamed about being LGBT+."
However, as time went on, having taken on such a herculean task, the GLF ultimately became fractured as different political currents within it started to diverge in priorities. Perhaps the group became exhausted by the immense strain of its efforts. Other groups such as Outrage (lasting for 21 years, from 1990 to 2011), picked up the baton. After 1973, Brighton did not see an organised Pride-style march or parade until 1991. London's Pride parades continued, albeit with a small turn out of around the fifteen thousand mark throughout the 70s. However, a terrifying era was about to begin.
1980s - the first anti-gay law in the UK for 100 years and a resurgence in LGBTQ+ activism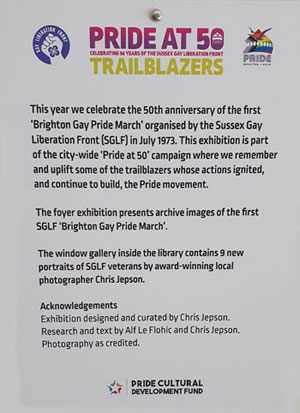 December 1981: British medical journal The Lancet published a report of a 49-year-old homosexual man who had died of what became known as an 'AIDS-related illness' in a London hospital. This heralded the HIV/AIDS epidemic in the UK.
Besides the tragic loss of life and suffering that was to overshadow the 80s and 90s, gay men were also on the cusp of a decade of ostracisation by wider society, especially in the media and government. Even though it soon became clear that other demographic groups were also affected by the epidemic.
A campaign in the media soon demonised gay men for spreading a 'gay plague' putting the rest of society at risk; the media ratcheted up hostile narratives and public attitudes to homosexual equality became more negative. Princess Diana's shaking hands with an AIDS patient, without wearing gloves, in 1987 helped to detoxify some of these perceptions but for the most part the British media remained hostile to varying degrees or were indifferent.
It meant that the health needs of HIV positive gay men were ignored by most politicians and health services struggled to cope with a safe effective treatment being still several years away. A sign of the times was when Peter Tatchell became the target of a hate campaign in the media for his sexual orientation. He stood as an openly gay candidate for the Labour Party in the 1983 Bermondsey parliamentary by-election [US: special election]. Besides media attacks, he received hate mail, including a live bullet cartridge, and was attacked in the street.
By 1988, at the height of the public paranoia about HIV/AIDS, the then Tory (Conservative) Government under Prime Minister Margaret Thatcher introduced a controversial law that became known as 'Section 28'. Simply put, the law made it an offence for local councils to "promote homosexuality". It was the first 'anti-gay' piece of legislation in the country for around 100 years and was deliberately vaguely worded to instil a self-censoring culture among teachers, librarians and other council workers.
At the time, local councils ran most state schools and public libraries. The purpose of Section 28 was to prevent any discussion of homosexuality and to deter positive depictions of it in schools and council-run libraries. The headline legislation was phrased so vaguely it could be interpreted as affecting any municipal service.
Ironically, no one was ever successfully prosecuted under Section 28, which was eventually repealed in England and Wales in 2003. But it had a potentially chilling or 'ice bucket' effect of fear on teachers, librarians, social and youth workers and others involved in local government services, even organisations not legally affected, such as voluntary groups serving the LGBTQ+ communities.
However, it rallied activists and influencers in the LGBTQ+ communities and among allies who were appalled at what they saw as a frontal attack on an already oppressed and marginalised section of society when the epidemic meant many gay men needed support more than ever. It conferred on LGBTQ+ communities a 'second class citizenship' as they could only have "pretended family relationships" unlike heterosexual partners according to the legislation. It also risked stoking societal prejudice against LGBTQ+ communities more widely and denying young LGBTQ+-identifying people the right to access support to learn about their sexual orientation. This was in the pre-internet era; information was often harder to come by than today.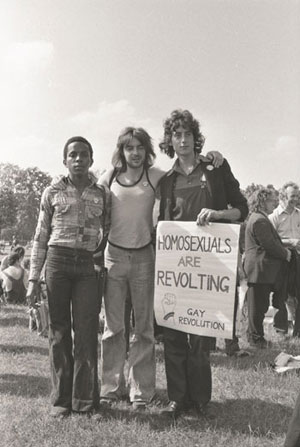 After Section 28 was passed by Parliament, Peter Tatchell noticed that the numbers of people participating in the London Pride parade in 1988 rocketed and attributes it to Section 28. "Numbers doubled to 29,000 people. This increased turnout was in response to Section 28, the UK's first new anti-LGBT+ law for a century. LGBT+ people were angry."
"Then [London] Pride kept on growing exponentially from year to year, coinciding with increased campaigning by groups like OutRage! It reached an all-time high in 1997 of 100,000 people on the Pride London march," Peter explained.
The UK has always liked to portray itself as a leading liberal democracy where all citizens rights are respected; yet Section 28 had, in reality, created, or rather reinforced, a legal hierarchy of one group of people - heterosexual - over another - homosexual - with different rights for different social groups.
While many LGBTQ+ people were all too aware of the centuries of legal discrimination that gay men, in particular, had faced, most of these laws had been around for a hundred years or even centuries; what was different about Section 28 was that it had been introduced in modern-day, democratic Britain, not by a long-dead English king buried centuries ago. It seemed to echo the horrors of countries that enshrined segregation or two-tier citizenship systems where people had to struggle for equal civil rights. Revulsion at this reactionary legislation energised activists in Brighton and around the country, in the same way that the Stonewall uprising in New York had almost 20 years earlier.
The return to the streets in the early 90s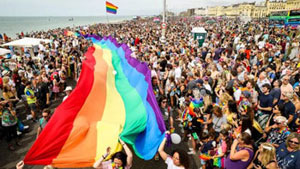 This anger reached a critical mass and in 1991, a group known as the Brighton Area Action Against Section 28 successfully enthused activists to a return to the streets in the first Pride-style march the town had seen since 1973. It took place along a route between Hove and Brighton Town Halls and hundreds came out in the streets to protest against Section 28. It followed the next year with the first park-based Pride festival at Queens Park.
This is the beginning of a new chapter in the rise of the modern Pride Festival which has led to the Brighton & Hove Pride Festival described at the start. What happened in the years between 1991 and today is a story for another time.
We should acknowledge the early Pride movement's pioneers, their politics, their bravery and the horrifyingly hostile climate which drove them in the 1970s and 1980s to lay the foundations for what Brighton & Hove Pride and similar festivals around the world have become today; it looks like a lot of fun was had on the way.
* Posters from Brighton Jubilee Library's exhibition 'Dare to be Different'.
---
Share this page
:

|
Tweet