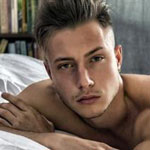 Touch of London gay massage
Location:
Central London, UK
Cost:
Massage prices start at £150 per hour.
Touch of London is a gay massage agency offering high quality male massage in the capital. Incalls and outcalls to your home or hotel are available. Have a look at the profiles of our masseurs and choose from one of the indulgent massage options. Our masseurs are qualified and experienced, not to mention extraordinarily handsome and friendly.
Touch of London on PinkUk
Touch of London gay massage
USA same-sex marriage rights: two steps forward, one step back
January 2023 By Simon, PinkUk
Continuing PinkUk's reporting on same-sex marriage: the newly signed Respect for Marriage Act in the US is welcome but it's only a safety net. It does not protect everything at risk from a more conservative and assertive US Supreme Court. Simon Williams looks at what's going on across the pond and why.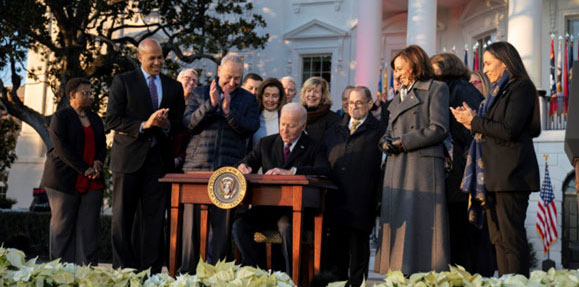 President Biden signing into law the Respect for Marriage Act (RFMA) at the White House 13 December 2022 Pic: US Government
On 13 December 2022 US President Joe Biden picked up his pen and signed the Respect for Marriage Act (RFMA) into federal law to claps and cheers from activists, dignitaries and elected representatives from both sides of the Congressional aisle.
The RFMA has been hailed as a landmark for same-sex marriage in the US both for same-sex couples who have already married and those who seek to marry.
For a country which often experiences polarised views on religious and LGBTQ+ human rights, it's certainly a landmark: it's the first time that same-sex marriage has been signed into US federal law by a President.
As you may know, same-sex marriage had already been legalised in practice through a case decided by the US Supreme Court called Obergefell v Hodges in 2015. However, that wasn't elected lawmakers deciding but judges using a progressive or 'activist' way of interpreting rights under the US Constitution.
The significance of Obergefell was that same-sex couples, wherever they lived in the US and even in states which had previously refused to perform or recognise same-sex marriage (and there were a lot of these states) were now legally obliged to do so. This made same-sex marriage a legal reality for all Americans across all fifty states.
So why all this law-making on marriage now?
The RFMA was steered through Congress and to Biden's desk for signing partly in the wake of a recent decision by America's top judges on abortion rights. This overturned a famous 1973 decision Roe v Wade which held that a woman had a right to an abortion anywhere in the US subject to limits on stage of pregnancy.
In June 2022 the court ruled that there is no inherent US constitutional right to an abortion, leaving it to individual states to decide on their policy. It effectively wiped out almost half a century of what had become settled law.
The impact was instant and has since barred women in many states from accessing safe abortion services locally, forcing clinics to close and women to travel long distances to 'pro-choice' states or seek unsafe and illegal interventions. The risk is that this same legal approach may be adopted by judges should they decide to review Obergefell and same-sex marriage. While there are no stated plans to review Obergefell, the court may take cases in the future that touch on its validity. PinkUk explained some of this relationship in an earlier article.
Ultimately, reliance on judges to interpret constitutional law can be a flimsy way to protect human and civil rights as a decision can be reversed when different judges reinterpret the same law. The RFMA is a halfway solution.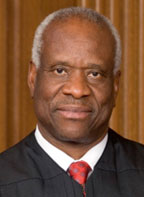 US Supreme Court Associate Justice Clarence Thomas (left) has suggested that the Supreme Court should reconsider Obergefell v Hodges, the case that opened up same-sex marriage across the United States in 2015. Pic Steve Petteway.
So what does the Respect for Marriage Act do?
The law gives federal recognition to same-sex (and 'interracial') marriages for the first time. It sweeps away a 1990s law known as the Defense of Marriage Act (aka DOMA) which specifically defined marriage as a union between people of the opposite sex.
The RFMA requires all states and the federal government to recognise an existing same-sex marriage regardless of where in the US that marriage was registered. This means that should Obergefell ever be over-ruled by the Supreme Court in the same way as the Roe abortion decision, existing same-sex marriages as well as new marriages in states where they are permitted, will be recognised by all US states regardless.
Without this measure, in those states where marriage under local law is recognised only between a man and a woman, state officials would be able to refuse to recognise a same-sex marriage (and all the security and rights that come with it) wherever the marriage was originally registered.
This is because each state's own pre-Obergefell marriage laws would automatically reactivate should that case be over-ruled, causing legal chaos and social distress with married couples finding they lose their marriage rights.
Worryingly, according to the non-partisan National Conference of State Legislatures in as many as 32 states out of 50, same-sex marriage would be prohibited or at risk of restrictions without the intervention of the RFMA, should Obergefell be over-ruled.
However, the RFMA does not require these states to register same-sex marriages within their own borders. This means that should Obergefell be over-ruled, same-sex couples who are looking to tie the knot but who live in a state which does not recognise same-sex marriage will need to travel to one that does.
This would resemble a similar situation now facing women seeking an abortion who live in a state which prohibits the intervention and who are now forced to travel long distances to reach safe clinics. It would involve costs of travel and other inconvenience as well as adding another layer of legal confusion.
A notable aspect of the RFMA is its guarantees to faith organisations who have moral or theological objections to same-sex marriage. For example, if a faith organisation has objections to their solemnising a same-sex civil marriage in a place of worship, they will not lose their charitable status or face legal action for refusing to perform a same-sex wedding ceremony or to offer related goods and services.
Given this is about civil (state) marriage, where religious solemnisation is a separate choice, this may have been an astute compromise by RFMA backers to win over more lawmakers in its passage through Congress.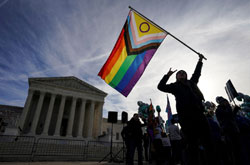 While such compromises are often politically advantageous and help build consensus, there are risks. One is that the RFMA could set a political precedent to introduce similar exemptions to allow purely commercial traders, who are not faith organisations, to withdraw their services to same-sex couples on basis of the trader's views of same-sex marriage.
For example, a newly married same-sex couple may choose to use a particular hotel for their wedding celebrations. Could that contract be refused by a hotel manager simply because they objected to same-sex marriage even though the service, hospitality, does not involve faith or creating media content? It potentially opens up a Pandora's box of discrimination.
At the time of writing, the Supreme Court is considering a case (not yet decided) on whether a Christian graphic web designer, operating commercially, can refuse to provide websites to same-sex couples for their wedding festivities. This argument goes that accepting this work would involve the designer creating website content that compromises her faith beliefs. Whatever the court decides will affect how same-sex couples are treated in commercial situations.
Now that the ink is dry from Biden's signature on the RFMA, lets note there are aspects to be thankful for in it, but it's only a safety net; it does not offer all the rights now enjoyed by same-sex couples across the US. It still leaves married or aspiring-to-marry same-sex couples exposed to the whims of a conservative Supreme Court and a patchwork of conflicting state laws; it also sets a political precedent to 'protect' discrimination against LGBTQ+ communities in commercial settings.
While the political and legal context is very different, there are valuable lessons for the UK and other countries in how to embed protections for same-sex married couples to ensure they have the right to enjoy civil marriage on the same terms as opposite-sex counterparts.
What's your view, please let us know
---
Share this page
:

|
Tweet