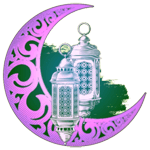 Paranormal Finding
Location:
Sussex, UK
We are proud to be an LGBTQ+ run group. If you are interested in all things Paranormal then this is the perfect group to get involved with. If you know any destinations that you believe to have Paranormal happenings, contact us today. We are always looking for volunteers to help us on our Investigations, you can do this via our website. We also have an events page worth looking at. So get in touch!
The Paranormal Findings on PinkUk
Paranormal Finding
A Pride Love Story
June 2023 Darren and Felix, Esmale
Esmale has asked us to share our Pride Love story and we had such fun doing this and it reminded us of some steamy sessions! So here goes...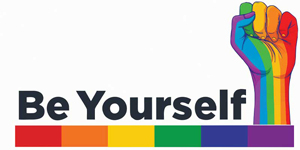 Darren writes, I remember that fateful night during Pride season like it was yesterday. The air was charged with excitement and anticipation as I stepped into the dimly lit room, drawn to the pulsating rhythm of the music. It was in that very dark-room that my life would change forever.
Amidst the sea of bodies, I caught a glimpse of him, mysterious and alluring. Our eyes locked, sparking a connection that felt electric. There was an unspoken invitation in his gaze, and without hesitation, we found ourselves drawn together in an intimate dance.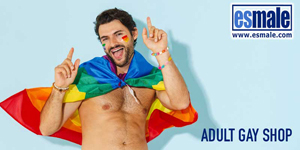 Clad in seductive gay underwear, our bodies moved in sync, teasing and tempting, a symphony of desire. The energy between us was palpable, undeniable. We danced, our movements growing bolder and more intimate with each passing moment. The boundaries of the outside world faded away, leaving only the allure of the night and the throbbing bass of the music.
As the night progressed, we couldn't resist the magnetic pull any longer. We sought solace in a secluded corner, where the world outside ceased to exist. The chemistry between us was undeniable, a fire that burned brighter with every touch, every kiss.
The passion ignited as our lips met, exploring each other's desires in a frenzied rhythm. What started as a dance had morphed into something more intense, more intimate. In that moment, our inhibitions vanished, giving way to a shared hunger for pleasure.
The electricity in the room mirrored the electricity in our bodies as we surrendered to our desires. Our bodies entwined, finding solace in the intimacy we discovered. The love that had simmered beneath the surface burst forth, transcending the physical act. We experienced a connection that reached into the depths of our souls.
In the aftermath of our passionate encounter, I expected our connection to fade away like a one-night flame. But to my surprise, it grew stronger. What I thought was a fleeting moment turned into something truly special, an unexpected journey of love and devotion.
We embarked on a relationship that defied expectations, nourished by our shared desires and deep emotional connection. Our love life flourished with an adventurous spirit. We revelled in the exploration of pleasure, finding joy in the use of gay sex toys to heighten our experiences, opening new realms of ecstasy we had never known before.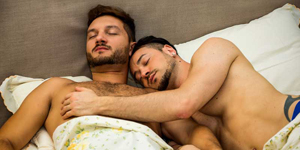 And then, we discovered the exhilarating pleasure of gay poppers. The formulation elevated our encounters, intensifying our sensations and fuelling the passion between us. It became an intoxicating element, enhancing our intimate moments and adding a layer of excitement to our shared journey. Some of you might know these products as room aromas.
As the years passed, Pride season became our cherished anniversary, a time to celebrate the love we had found amidst the vibrant tapestry of the LGBTQ+ community. It was during this season that our bond deepened, where we felt the love and acceptance of our chosen family, and where our passion reignited.
Pride season became the highlight of our year, a time to proudly express our love, our desires, and our identities. We would march hand in hand, wrapped in rainbow hues, basking in the warmth and acceptance of the crowd. We celebrated not only our love but also the battles fought by countless others, standing tall as a testament to the progress and the ongoing fight for equality.
As the sun set on each Pride season, we returned home, our hearts overflowing with gratitude for the love we shared. We embraced, bodies pressed together, remembering that first night and the journey that had unfolded since. Our love-making was a symphony of passion, fuelled by the desire and intimacy we had cultivated over the years. It comes as no surprise that our anal toys for beginners collection was soon upgraded as that is where we found a lot of pleasure together!
Pride season served as a reminder of the love we had found and the love that would continue to flourish. It was a time to honour our commitment to one another, to celebrate the depth of our connection, and to cherish the memories we had created. It remained, year after year, the best time of the year—a celebration of love, unity, and the beauty of being true to ourselves.
So now, here we are again! 2023 Pride season is in full swing again and we are loving it already. We will visit our usual places but also always look at PinkUK for all the other prides as there are so many. If you want to see a complete overview, of PinkUk's list of just short of 1,000 prides in 2023 there are so many to choose from. We also plan European pride stays and Sitges is our favourite.
With love,
Darren and Felix.
Special thanks you esmale for making us relive some amazing times. These guys helped us discover another level of pleasure. If you want to do the same head over to these sites.
esmale.com for a massive collection of toys, fashion and fetish.
poppersupershop.com for the best poppers in the UK.
Happy Pride season!
---
Share this page
:

|
Tweet