Product of the month: Berlin XXX
June 2022
This month the focus is on one of the best-selling poppers in the UK. Berlin XXX hardcore.

On the Popper Super Shop there so many brands that you can choose from but for some reason this brand has been more popular than all the other brands. I say, some reason, I do think we know why it sells so well. The feedback has been amazing. It is always a good sign when customers keep coming back for the same brand. People just enjoy the formula presumably.
If you like Berlin XXX try these.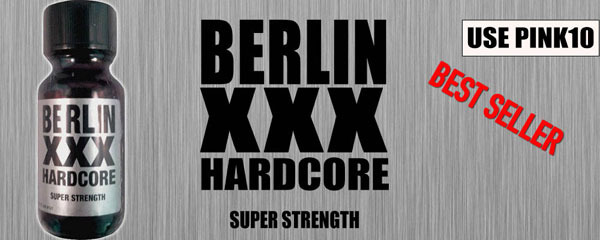 The manufacturer clearly has done something right with the formulation, so if you enjoy their poppers, we suggest you try out some others from the same maker. For example, the excellent Red Bullet, Power Rush (with power pekklet) and Original. In addition to these they also have some more fetish orientated room aromas like RAW XXX, Top, Bottom and the popular Pig Red and Pig yellow aromas. All with and edge and focus on hardcore play. Some of the brands are available in 2 sizes, 10ml and 25ml. The 10ml bottles are great to take with you to a party, sauna or hook up.
How about the classics?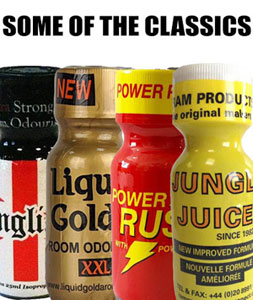 If you are a fan of poppers, you might have enjoyed some of the classics like Liquid Gold, Jungle Juice and Amsterdam. Have you noticed a change in these over the last few years? The reason for this is that within the UK you are limited in what formula you can sell. The good old days of Amyl are over. Even though the new variation is great it is not the same as it was say 10 or 15 years ago. There are various manufacturers now and you can find some differences between. The only way to find your favourite is to try them out.
Want some extra value?
Who does not like a bit of extra discount! For all PinkUK visitors we have created a code so you can get 10% off your next order. If you use voucher code PINK10 at the check-out you will receive the extra discount. If it is Berlin you are after please click this link. Berlin poppers
We hope you enjoy them and if you have any questions, you can reach us through our website.
The Popper SUPER Shop team!
Share this page
:

|
Tweet