Gay prides in Spain 2017
List of prides in the Spain for 2017, There are also links to prides in the UK and other countries.
Click on the event's name for full details for the applicable event that includes a map of the event's location, or click on the country's name for a list of prides in that country for 2017.
International gay pride dates
May 2017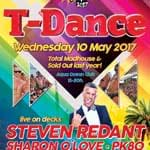 T-Dance @ Maspalomas Pride 2017

Aqua Ocean Club Since 2009 the most popular party at Maspalomas Gay Pride. Previous year, for the first time in Maspalomas Gay Pride history that an event was sold out during pre-sale for both T-Dance and Wet & White! Located just 5 minutes away from the Yumbo Center you can find the fantastic Aqua Ocean Club next [...]
---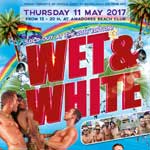 Wet & White @ Maspalomas Pride 2017

Amadores Beach Club Voted on social media as the best 2016 Maspalomas Pride party! Completely sold out in pre-sale last year so make sure you are part of it this year! Wet & White is held at the amazing Amadores Beach Club with huge pool, jacuzzi, sunbeds (for rent), restaurant, dance area and is located right next to [...]
---
June 2017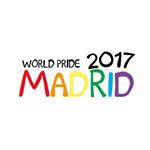 World Pride Madrid 2017

Madrid, Spain WorldPride Madrid 2017 is the biggest Gay Pride Event in the World. Starting in Chueca Neighborhood, and blooming all over the city of Madrid (LGBT capital of Spain and Europe), the World Gay Pride will conquer big avenues like Gran Vía, Paseo de la Castellana or emblematic squares like Plaza de [...]
---
July 2017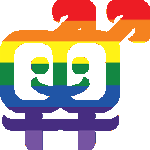 Barcelona Pride 2017

Barcelona PRIDE Barcelona, the LGTBI PRIDE of the Mediterranean, attracs every year more than 260.000 persons. PRIDE Barcelona 2017 will be from 28th of June to 9h of July, the most important activities are: • 28th of June – Announcement • 7th of July – Opening of the village at the Pier, place that hosts [...]
---
September 2017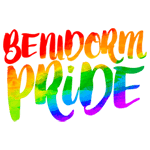 Benidorm Pride 2017

Costa Blanca coast BENIDORM PRIDE 2017 Fun Friendly Flirty! The most famous resort in Spain has confirmed BENIDORM PRIDE 2017 will take place from September 4th to 10th with the BIG PARADE on Saturday the 9th. This is only the 7th big pride outing for the high octane resort and is set to be the biggest and most WOW [...]
---
November 2017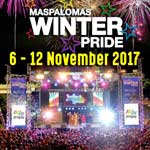 Winter Pride Maspalomas 2017

Yumbo Centrum Winter Pride Maspalomas 2017 is the final gay pride celebration in the European calendar year. An open air event with an average outside temperature of 23 degrees. One week of amazing events with live shows with international artists, pool parties, boat excursions, parade, dance sessions and more!
---