Brighton Gay Pride 2012
Location: Brighton Madeira Drive / Preston Park
Date: 01 Sep 2012 - 01 Sep 2012
Details:
Organisers say The United Colours of Pride is an international theme that celebrates the rainbow flag, using it to raise awareness of those countries where the LGBT community still faces discrimination, giving the event a political edge and relevance in 2012 while not detracting from the carnival atmosphere and colour of the Parade.
This year's Pride festival - now run by a new community interest group, Pride in Brighton and Hove following fears the event may not go ahead due to its former organiser's financial situation - sees the selection of this striking theme by the public as an important step in reinstating Pride to its political roots, whilst celebrating the journey of the LGBT community over the years.
Pride Director, Trevor Edwards commented: "We are amazed at the response this competition has received; as you know we would have been happy with either of the choices, but I think United Colours of Pride will be a fantastic theme for the September 1 event. It reflects the evolving attitude towards this year's festival by remembering the more political side of the Pride movement, whilst reaching out to our community- which is integral to its existence.

Town: Brighton
County: Brighton/East Sussex
Web site: brighton-pride.org/
Email: paul@brighton-pride.org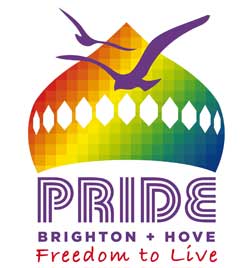 ---
Members comments
Rating:

02 Aug 2012 16:50
Our Pride float
I am building a float again this year for Brighton & Hove Green Party Many Green Party representatives will be in attendance: the first Green Member of Parliament Caroline Lucas; Human Rights campaigner Peter Tatchell; the South East's Green Member of the European Parliament Keith Taylor; Green Member of the Scottish Parliament Patrick Harvey as well as several of the Green Party City Councillors. The theme of this year's Pride is 'Untied Colours of Pride' so will be having a colourful float
---
to add a review