Norwich Gay Pride 2013
Location: Norwich
Date: 27 Jul 2013 - 27 Jul 2013
Details:
We'll have stalls + lectures at The Forum, a picnic at Chapelfield Gardens and a parade through the city to Millennium Plain for speeches and entertainment.
There will also be parties, events and exhibitions in venues across the city. Check out these LGBT-run / LGBT-friendly venues: The Catherine Wheel, The Castle and The Coach and Horses (Union Street) pubs. Check out films at Cinema City, Comedy at Norwich Playhouse, and Cabaret and Bands at the Norwich Arts Centre.
Norwich Pride is a grass-roots, do-it-yourself celebration organised by a collective of friendly, creative and enthusiastic volunteers.
Bring your picnic, bring your banners, bring your friends and family! Together we can make the last Saturday in July the most colourful and inspirational day in the city's calendar.

Town: Norwich
County: Norfolk
Web site: www.norwichpride.org.uk/
Email: info@norwichpride.org.uk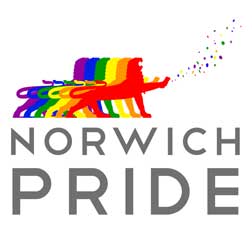 ---
Members comments
to add a review